As I dragged around through the kitchen, finishing up dishes from last night, filled the coffee maker with water and coffee, made tea for the the wife, and after 10 minutes or so, I realized to my horror…horror, that the coffee maker was just sitting there like a dumb shit; no activity except for the little light.
I restarted the batch; nothing. I felt the hot plate; cold. damn!
I then proceeded to give it a couple of good solid whacks; nothing.
So, I dug out the stove top percolator that I use for emergencies, and I called this an emergency, and brewed a pot on the stove.
Meanwhile, I ordered a Bunn.
I have had three Bunn coffee makers in my life. The first one lasted 10 years; I loved it. It kept water hot so that as long as one made coffee every day, it would only take a few minutes to brew a pot. It developed a leak, and out it went.
I bought another like it, and it did not last near as long before it started leaking.
These dang things are expensive as far as coffee makers go, costing well over $100 each.
I sent the wife out to get another, and she returned with another Bunn, that I used hesitantly for a while; it wasn't the same style as the others.
When I moved up to the ranch, I bought a Hamilton Beach cheap one, and that was in 2015; it just now died. I think I paid $15 for that one.
Anyway, I just ordered another Bunn. The Bunn website sold them for $149, and got it for $73.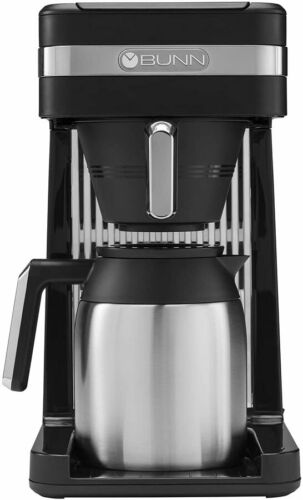 I liked the thermal carafe too.
In other news, it has been raining here since yesterday morning.
We were supposed to get thunderstorms, but that forecast was a joke. Rainy enough to keep us from working outside…but I don't need the rain for that excuse.
Looks like the wife is gonna fly to Ft Worth for her next doc visit; the first of two.
It's a 10 hour round trip by car, and she's had enough of the drive. So off to SIL's for more adventure.
She still seems to be in good health after her J&J vax. They even called her so see how she was doing yesterday.
By the way, she DID had to sign a liability release when she got vaxxed.