Besides the fact that my Firefox browser keeps crashing, things are peachy..not really..
I always use butter. I cannot remember the last time I purchased margarine…at least 20 years. I keep at least 15 lbs of butter in the freezer always. We seem to go through it quite rapidly.
margarine ingredients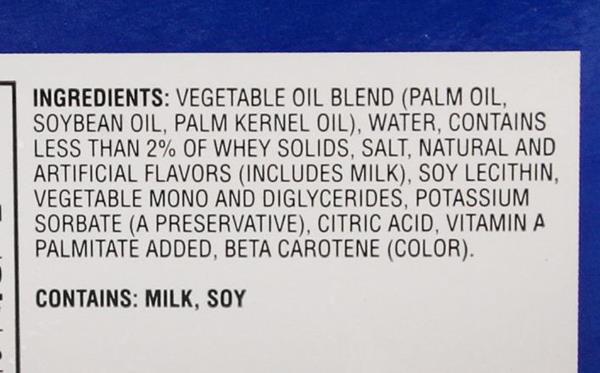 butter ingredients
As The Chief would say "'Nuff said!"
I went to bed earlier, and tossed and turned for hours last night, before finally getting up around 8 and showering. Still not up enough to hit the store; mostly because of my newfound bowel habits…argh..you don't wanna know. This has been going on now for a month. dammit…Imodium AD, is my newest friend.
I was reading Big Country and his woes about rescuing the granddaughter…what a mess…makes my problems seem small compared to his. Child custody battles, even in a backwater state like Tennessee (and most others), will likely favor the parents despite flunking drug tests by the parents…holy shit…unbelievable..Similar story from a former blogger amongst us..Stephen with "outside looking in" a few years ago, ended without a favorable solution…often times the grandparents are left out of the loop with the grandchildren, and are forgotten, and kicked to the side…
In today's world of demorat pedophiles, and their blatant obvious disregard for children's welfare, the only long term solution is to rid ourselves of the corruption in the judicial system…
I do not have grandchildren…my oldest just got divorced, after not even two years of marrying a Diva. That trip to Colorado cost me 2 grand; much of it gifts which he was not able to retain.
I forgot my proton mail password, and to reset it, I lost all the encryption keys to any and all emails I received. greatgreatgreatgreat
The high temps have been replaced with 90s for the time being; hopefully, this trend will continue into the fall. I have had enough of high 90s and 100s. A bit of rain brought some relief for now, but historically, September is usually hot as hell here. Wyoming is looking better and better…oh look; there's one for 13 million…geez.
I went to the deep freeze to dig out something for dinner, when to my dismay, someone else crammed their crap into the already crammed full freezer…why oh why would they do this? Chest freezers are problematic in that stuff not used frequently, eventually makes its way to the bottom; the larger the freezer, the more shit you have that disappears…and I'm going back to the store? what the hell am I thinking?
I just Food Savered 12 lbs of pinto beans, and I have another 12 lbs now to do same. I put up all the flour as well, and the 10lbs of ground beef. More flour needed as well.
Thursday********
I did not get to the store today either. The last time I pushed it, and went back to my normal routine, i got a relapse, which lasted an extra week. Nope. home again home again jiggety jig. A bird in the hand and all that…